CALIFORNIA ROLL RECIPE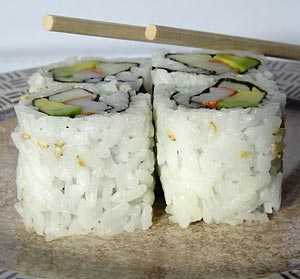 Originally "California" rolls referred to the use of avocados in sushi makis. Today, the inside/out [rice on the outside] categorizes a California roll more than its contents. Garnishing the outside rice covering of California rolls offers the opportunity to add wonderful color and texture to your sushi presentation.

Make The Rice
Follow our rice recipe for makizushi, making sure to roll your sushi while rice is still warm.
Sushi for Your Health
Whether you're trying to keep your high-blood pressure down, boost your energy level, or just fit into your favorite jeans, pick up your chopsticks
Are you eating your "5-A-Day" of vegetables? Watching your calories? Your cholesterol? If you are, you probably dutifully try to enjoy that garden-mulch salad, or brick of steamed pollack, again, while really wishing you could just sink your teeth into something more appealing. The problem, it always seems, is that if it is something you crave, it is probably not on your diet.