PHILADELPHIA ROLL RECIPE - PHILLY ROLL
A very popular roll that we sell is the Philadelphia Roll, or Philly Roll, named after the popular brand name cream cheese. It is a great combination of flavors and many of our clients like to have it for breakfast!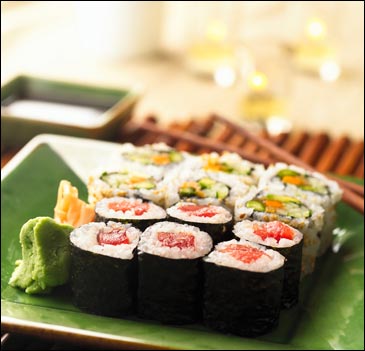 We use Philadelphia brand cream cheese and I swear there is a difference. I prefer to use the lightest smoked salmon on the market (Norwegian Smoked is nice). Add one of the two suggested optional ingredients for an extra special Philadelphia roll!

Recipe For Two Large Philly Rolls
2 8" lengths of 1/4" square cream cheese
3 ounces smoked salmon
2 8" lengths of 1/4" square English cucumber
2 toasted Nori (sushi grade seaweed) sheets
1 cup Sushi rice
Optional Ingredients
1 ounce thinly sliced Maui onion
pinch dried bonito flakes (Hanakatsuo)
or
1/2 ounce tobiko (flying fish caviar - I prefer gold or red)

Basic Rolling Of Futomaki Rolls
So let's get to it and make a great Philly roll!

Step 1 - Prepare Nori Sheet
First place one full sheet of sushi nori on your bamboo mat, shiny side down.

Step 2 - Cover Lightly With Sushi Rice
Lightly cover the nori sheet with your prepared sushi rice - leaving the remaining inch and a half of nori bare lengthwise away from you.

Step 3 - Place Toppings Lengthwise
Place your toppings lengthwise at center of your rice.

Step 4 - Start Rolling
Fold your mat over, centering your ingredients with respect to your rice sheet to the far edge of your rice. With even pressure, tighten your roll by pressing and pulling on your mat.

Step 5 - Tighten Your Roll
Finish your rolling by rolling your tightened roll over the last flap of nori. Repeat the tightening process if necessary.

Step 6 - Slice & Serve
Slice your Philadelphia Roll into eight pieces. And that's it — the perfect Philly Roll! Enjoy!